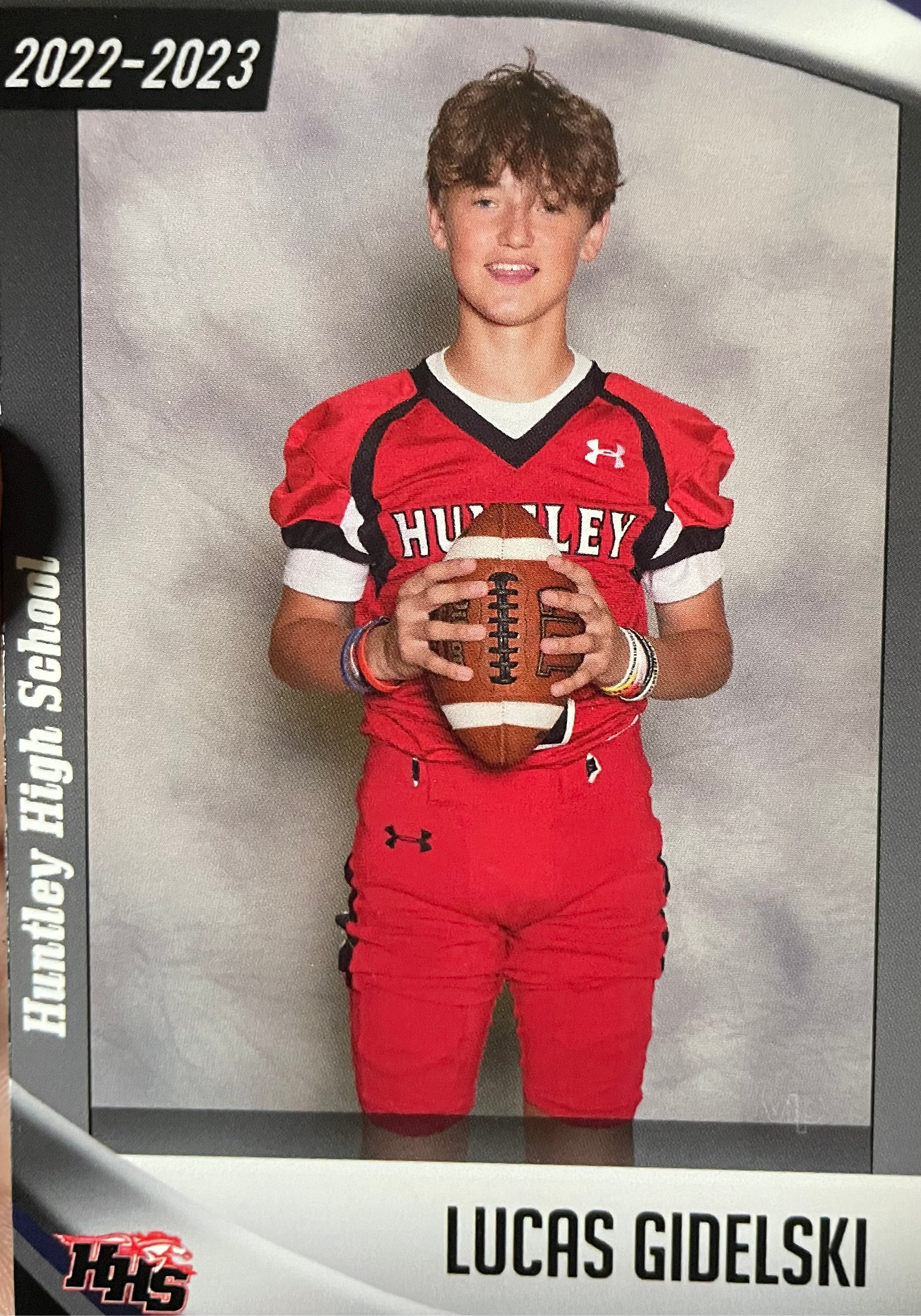 Each year the proceeds raised by the organization are designated by our annually elected "Champion" to be used in support of families fighting cancer and research for cures with approval from the Champions for Cures Board. The organization has raised $558k+ in the fight against cancer through our first ten years.
Lucas, a young athlete and quarterback, was diagnosed with T cell lymphoblastic lymphoma on October 29, 2022, after experiencing symptoms like swollen neck, fatigue, and breathing difficulties. His diagnosis and treatment journey included hospitalizations, chemotherapy, steroids, and physical therapy, with challenges such as a fungal lung infection, pulmonary embolism, hair loss, and adverse reactions to treatment.
Despite setbacks like COVID-19, cellulitis, and fluctuating weight, Lucas persevered with support from his family and community, who provided meals, assistance, and fundraising for medical bills. The family remains hopeful for Lucas's recovery and return to sports, as they navigate the emotional and logistical complexities of his health journey.
The 2022 Champion
The 2021 Champion
The 2020 Champion
The 2019 Champion
The 2018 Champion
The 2017 Champion
The 2016 Champion
The 2022 Champion
Jeremy was someone who was always willing to share his happiness and love with the rest of the world. He was a Marine veteran, a father, a husband, a son, and his mother's only child, and he was always a joy to be around. In every situation, he gave more than he received.
Jeremy was diagnosed with acute lymphoblastic leukemia in 2019. In typical fashion, he stepped up to the plate, seeking treatment in Austin and Seattle. In April 2020, he received a bone marrow transplant and had been cancer-free for about 18 months.
Jeremy learned early on how to deal with adversity. His feet had been clubbed since birth. His first year was dominated by foot and hip surgeries for septic arthritis. Regardless, he was always active and athletic, and he learned to walk and run normally. In Santa Monica, California, he was the only child of a single mother who studied gemology. After a few years in California, they relocated to Niles, Illinois, just outside of Chicago, where he attended Hynes Elementary, Golf Middle School, and Niles North High School. Throughout his school years, he enjoyed wrestling, soccer, and cycling.
After graduating, he joined the United States Marine Corps. While in the Marines, he wrestled for the All Marine Corps Team in Quantico, Virginia. He finished his Marine Corps service at Camp Lejeune and returned to Illinois, where he enrolled in Western Illinois University alongside his USMC buddy Mike Terranova. Jeremy was certain he was in the right place after learning about the school mascot, Leathernecks, which was borrowed with permission from the USMC.
He returned to Chicago after obtaining a Bachelor of Arts in Broadcasting from Western Illinois University. In 2013, he was named to the USA Triathlon team and competed in the international event in London. He eventually returned to Texas, where he settled in Austin. Felicia, his future wife, soon joined him, and they began to build their life together, with careers, a home in Austin, and a son on the way.
Unfortunately, he relapsed in September 2021 and died just a few months later on December 22, 2021, leaving behind his wife Felicia and their 4 year old son, Leo. He had a huge impact on so many people in his short 42-year life. Hundreds of people attended his memorial service in person and via zoom. Many people, from middle school to the present, shared their stories about how Jeremy had impacted their lives. Family, coworkers, friends, former colleagues, teachers, and even middle school classmates from all over the world shared stories about how Jeremy had impacted their lives in a variety of ways, from standing up to school bullying to talking someone out of suicide to simply sending an unexpected text message with a picture of their garden.
The 2021 Champion
The 2020 Champion
The 2019 Champion
The 2018 Champion
The 2017 Champion
The 2016 Champion
Your contribution can help us create lasting change. Donate to provide your support now.